WELCOME TO THE CATHEDRAL SCHOOL LLANDAFF
Ours is a school with an outstanding academic reputation, but without the 'pressure cooker' atmosphere which often comes with high academic performance. Our caring Christian ethos makes for a family-feel in all areas of the school, along with the down-to-earth realism of boys and girls working and playing together at all ages. The school was ranked top co-educational school in Wales in 2012 for GCSE success (The Times, 1 September 2012). Excellent teaching, strong pastoral care and careful individualised attention ensure pupils make solid progress. Sixth Form begins in September 2013.
VIEW PROSPECTUS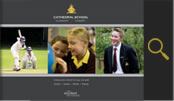 Latest School News
17 May 2013
Four of the Cathedral School's finest Year 8 chemists...
10 May 2013
The Cathedral School Judo Club were thrilled to welcome...